Managing the System Configuration
TrueNAS SCALE allows users to manage the system configuration by uploading or downloading configurations, or by resetting the system to the default configuration.
The Manage Configuration option on the system Settings > General screen provides three options:
Download File that downloads your system configuration settings to a file on your system.
Upload File that allows you to upload a replacement configuration file.
Reset to Defaults that resets system configuration settings back to factory settings.
The Download File option downloads your TrueNAS SCALE current configuration to the local machine.
When you download the configuration file, you have the option to Export Password Secret Seed, which includes encrypted passwords in the configuration file. This allows you to restore the configuration file to a different operating system device where the decryption seed is not already present. Users must physically secure configuration backups containing the seed to prevent unauthorized access or password decryption.
We recommend backing up the system configuration regularly. Doing so preserves settings when migrating, restoring, or fixing the system if it runs into any issues. Save the configuration file each time the system configuration changes.
If you plan to set up a cluster that includes this TrueNAS SCALE, wait to download your system configuration file until after the cluster is set up and working.
Go to System
Settings > General
and click on
Manage Configuration
. Select
Download File
.

The Save Configuration dialog displays.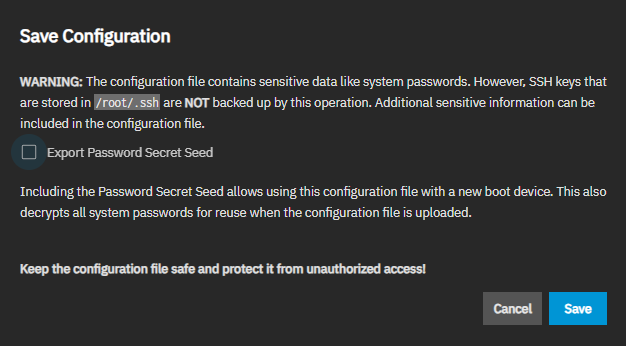 Click Export Password Secret Seed and then click Save. The system downloads the system configuration. Save this file in a safe location on your network where files are regularly backed up.
Anytime you change your system configuration, download the system configuration file again and keep it safe.
The Upload File option gives users the ability to replace the current system configuration with any previously saved TrueNAS SCALE configuration file.
All passwords are reset if the uploaded configuration file was saved without the selecting Save Password Secret Seed.
TrueNAS Enterprise

Enterprise High Availability (HA) systems should never reset their system configuration to defaults. Contact iXsystems Support if a system configuration reset is required.

iXsystems Support

Customers who purchase iXsystems hardware or that want additional support must have a support contract to use iXsystems Support Services. The TrueNAS Community forums provides free support for users without an iXsystems Support contract.

Contact Method
Contact Options
Web
https://support.ixsystems.com
Email
support@ixsystems.com
Telephone
Monday - Friday, 6:00AM to 6:00PM Pacific Standard Time:

US-only toll-free: 1-855-473-7449 option 2
Local and international: 1-408-943-4100 option 2

Telephone
After Hours (24x7 Gold Level Support only):

US-only toll-free: 1-855-499-5131
International: 1-408-878-3140 (international calling
rates apply)

Save the current system configuration with the Download File option before resetting the configuration to default settings! If you do not save the system configuration before resetting it, you could lose data that was not backed up, and you cannot revert to the previous configuration.
The Reset to Defaults option resets the system configuration to factory settings. After the configuration resets, the system restarts and users must set a new login password.